commissions
Tom works on both public and private commissions, working either on existing standing timber or carving pieces off site and then securely installing them in place.
After an initial consultation, design work is done on paper to give both the artist and the client a clear idea of what will be made. Once both parties are happy with the designs, the carving work can commence.
Getting started
Work can be undertaken anywhere in the UK, with a mobile workshop doubling up as accommodation when working away from home.
Tom is happy to work to a design brief or to start from scratch, it's up to you. The price of a sculpture is determined by its complexity, size and finish and will be fully quoted for before work commences.
Contact Tom to discuss your ideas
Work in Progress
The carving process can vary from quick, relatively simple pieces taking only a couple of days to far larger and more ambitious designs taking several weeks.
Whilst it can be a bit noisy and dusty in the immediate vicinity of the emerging sculpture, Tom is very experiencesd in undertaking private and public commissions. His years as a tree surgeon have given him the training necessary to create a safe working environment for himself and members of the public.
Once he has finished carving he will even take any wood chips and and away with him, leaving the artwork completed and ready to be enjoyed.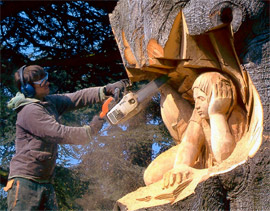 Tom working on a community project commissioned by Worcestershire county council in the grounds of Pershore Abbey.
Community Projects
Tom has worked on a number of community projects that have taken the form of running group workshops where participants produce designs and models along a chosen theme for a carving.
The group can then become actively involved in making the sculpture (not using chainsaws!) learning simple, safe chisel carving techniques. Through a group being an integral part of the whole process, they gain a sense of ownership and understanding of the sculpture.
Chainsaw carving is an exciting process to watch, and is therefore well suited to demonstrations at schools, festivals and other public events.